Mahalo to Anne, Margaret and Steve for being such great hosts and providing this gem for our long weekend getaway. The location was perfect for our group of six to participate in the Cycle to the Sun bike race. It was comfortable, convenient and relaxing – we couldn't ask for anything more. We loved being within walking distance to Mama's Fish House where we had a memorable group dinner, and could hear the music drifting over from the yard. When the shower head in the master bathroom broke, Margaret made sure that it was replaced during our stay. The yard is beautifully landscaped and I personally enjoyed the outdoor shower and a relaxing soak in the tub after our bike rides. Mahalo again, from your new cycling friends on Oahu! We hope to be back.
Nikki M.
Menehune House exceeding all expectations in our 8 days in Maui. We comfortable slept 6… our check-in and a late check-out were accomodated with a breeze. The home is well thought of, the interior is clean and comfortable and extra amenities such as beach towels & chairs to the beautiful garden spaces, bbq and outdoor shower/tub area. We loved spending time at the house! The location for our vacation, exploring the island & beach going was perfect. We loved walking down to see the sunsets from the beach, cooking & resting easy after an adventurous day on such a beautiful island. You are minutes to Paia, Kuai Market up the street is incredibly convenient if you forget small kitchen or household items. I wish we could have an extended stay… forever, we loved it. Mahalo!
Katia, Chase, Fletch, Krista, Johanne, & Linda
We were only able to stay for three nights, but our time was delightful!! Felt like we were long time locals living in our little world, complete with a heavenly outdoor shower! It is a in a great location, and a great jumping off place for exploring upcountry. We would definitely stay there again!
Chris and Karen
We stayed in the cottage for a week at the end of August. The location is ideal for exploring all of maui. Paia is a perfect blend of funky, artsy & laidback. Mana foods is the best market, an amazing selection of local produce, we shopped daily and cooked in the cottage. The cottage is clean, cozy with just the right amount of Hawaiian flair. Sunsets at mamas fish house, long walks on Baldwin Beach, drive to Hana…… Cant wait to visit Menehune Cottage again!
Margarita & Matt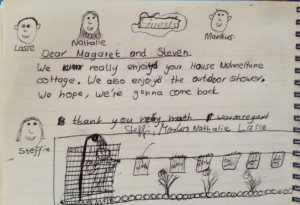 Click to enlarge
July 2017
Perfect place to stay. Well located, everything you need is there, just like a second home. First time in Maui, hope we will come back here! Mahalo
Sophie, Frederic, Chloe, Sarah France
June 2017
It has been fantastic to stay three weeks in your lovely cottage, that has everything you can ask for!
All details perfectly planned both indoors and in the garden as well as your hospitality made this vacation to something extra.
Thanks! Mahalo Sofia and family
May 2017
What a wonderful cottage! Its so great to show up to a rental and it has everything you need. Perfect size, very comfortable, and a great location. If we make it back to Maui this house will be on the top of the list!
Mahalo your Colorado friends
April 2017
Another fantastic stay at the Menehune House! Our memories continue to grow in number and in fondness of this restful retreat from the busy life.
See you next year
Mary Gareth and family
Absolutely loved staying here, having both houses for 2 families has been brilliant. Totally private, fully catered for. You have everything you could possibly need, along with all your recommendations. This is our 2nd trip to Maui and we will df rebook your great house next time we come.
Mahalo xx Rosie et al NZ
What a fun nice place it is here, we love the cottage and I think its very nice to stay this close to the beach!! the yard is so pretty
Chloe
p.s. I love love love the outside shower
Best house ever Jack
March 2017
Mahalo for another perfect retreat at "my" favorite north shore Menehune Cottage, Margaret, Steve and Anne! I can't think of a better home away from home. Love all the improvements since my last visit! If I wasn't beginning to miss my family back in Illinois, I'd want to stay here indefinitely!
MM Champagne IL
Aloha Anne
We had the most fantastic time in your beautiful cottage!! You really thought of it all! Lamps, music, tea, everything! Your cottage was just what we needed to start our lovely week in Hawaii, Maui! We hope to come back soon one day.
A bientôt! Mahalo!
H & J
February 2017 Menehune Cottage
Loving our first visit to Maui but after staying in this perfect cottage, we are already planning to come back and do it again. This cottage was the perfect place for the perfect vacation. Thank you!!
Jim and Beth Ohio
January 2017
Thank you so much for the beautiful stay here at the cottage. Loved the chickens and birds in the mornings sitting out and enjoying the garden porch area. The short walk to the beach was a treat, very beautiful nice welcome to Maui.
Patty MN
January 2017
Cottage was just right …. thanks for the welcoming bowl of goodies (as you can see, we emptied it!) The papaya was a treat! Great location! Well stocked. Worked great for us.
M & M Montana
December 2016
We thoroughly enjoyed our stay here. Hats off to housekeeping as the place was spotless (and this is coming from some very picky people!) You could see the personal touches, and we had everything we needed (the straw ties around the paper towel/TP were nice touches, and we appreciated having those little extras like iron, beach chairs…) We also found the Road to Hana CD – great alternative to looking at guide books
Alison et al Winnipeg/Ottawa Cananda
Thanksgiving 2016
Thank you for for sharing your fun little cottage with us. We enjoyed the close proximity to Mama's Fish House and so many sea turtles. It rained like the dickens but we played games and enjoyed all that nature had to offer.
The Lights SF Bay Area
October 2016
Thank you for providing everything we needed. Your comfy, cozy cottage was the perfect choice for our very first visit to Maui. So nice to meet Anne and Steve, and many thanks for accommodating our departure time. Should we be blessed to return to this glorious island we would definitely stay here again.
Ciao for now
Susan & Bill Toronto
October 2016
What a beautiful Hawaiian cottage! we loved the facilities, the garden and the perfect location. Thanks for your hospitality! We hope to be back one day.
Thank you – Mahalo – Danke
Anne & Wolfgang
Miriam & Thomas Germany
October 2016
We had the best time exploring Maui. Thank you for having us, I couldn't imagine a better spot to celebrate our honeymoon and my husband's birthday. We will most definitely be back with our daughter.
Mahalo
Stephanie and Tim Ohio
September 2016
Thank you so much for sharing your charming bungalow in Paradise! WE had a fantastic time & as a designer appreciated all your attention to detail. Also hats off to Anne, she does an amazing job. We're here to visit family and lifetime friends & celebrate anniversaries & birthdays … so fun!!
Mahalo… The Action Jacksons Encinitas CA
8/29/2016
Thank you for sharing your lovely home with us. We found the atmosphere and overall presentation to be of the highest standard.
Michael, Mary and Tom Florida
August 2016
A wonderful peaceful and lovely place to stay. We enjoyed walking to Mama's Beach, plate lunches from the Kuau Store, and especially seeing the turtles haul out at Ho'okipa.
thank you
Castles family CA
July 2016
We could not have had a more perfect spot for our family time to relax on your beautiful island! My 3 boys and I felt so at home from the moment we walked in to fresh pineapple and bananas! All of the amenities provided made for a vacation with ease – beach chairs, towels, boogie boards, cooler were all very appreciated. The kitchen is so well stocked – it made eating in a breeze.
We love the atmosphere here! From the beautiful gardens to the open truss beam ceilings – incredible warmth.
Thank you for "the best vacation ever" (quote from my youngest 18 years old)
July 2016
Menehune House was a beautiful place to stay for our long weekend in Maui! Anne was wonderful and responsive to all of our questions, and Margaret & Steve were warm and friendly when we ran into them. It was a lovely stay and we thoroughly enjoyed staying here!
Thank you so much!
CK, KK, BL, BT, BY, FL San Francisco CA
April 2016
BEST HONEYMOON EVER!
E & K
April 2016
What a wonderful way to remember our 25th anniversary & a family vacation – everything is so well supplied with lots of thought for our needs. Felt right at home
Kathy
April 2016
The minute we walked in we felt "at home"! The house is beautiful and the landscaping is awesome! I cannot think of anything more we would have needed or wanted. The location was also perfect ….. From the Menehune House we were able to explore all ends of Maui without having to drive too far. Thank you so much for making this a wonderful vacation, we loved the house and ho[e to see you again!
Kathy & Family Crystal Lake IL
March 2016
Thank you so much
We loved Menehune House so much. The bath tub out back was so much fun for our girls. The easy access to Mama's, road to Hana, and other attractions really added to the effect of the house. All of the amenities included were great. Thank you
The Rogers Family Illinois
December 2015 – January 2016
Dear Margaret, Steve & Anne
Milles mercis pour votre hospitalité – cannot tell you how much we enjoyed our Christmas to New Year's vacation here, chez le paradis de la Maison Menehune – c'etait formidable!! Our whole troop had a wonderful time – sun, beaches, food!
with luck we will be back
Bless you
Pierre Vancouver BC
November 2015
What a comfortable house! all the extra touches, from olive oil to books for our 4 year old granddaughter, were great! Paia is a great town and Mana Foods was incredible. Mama's Fish House beach was perfect! Thanks so much Jane and family
July 2015
We enjoyed our stay in Maui, a real paradise island. We spent 5 days in Menehune House and appreciated this lovely and charming house. Everything is well thought and attention to detail have impressed us. Bravo for the tastefully and cozy interior design! As for kitchen, nothing is missing, we can cook like at home.
Thank you so much
Florence and Olivier Grenoble FRANCE
April 2015
We stayed for a long weekend for a wedding up in Makawao and had a lovely time. We got to explore the North Shore area, which is so lush and beautiful! We loved the Paia Bay Coffee Company, the Paia Fish Market and Charley's in town. We ventured over to Haiku for breakfast at Colleen's one day, which was marvelous. The little path to the beach and the easy access to Mama's was great. We saw rainbows almost every day!
The sound of the rain and breezes through the windows makes for wonderful napping conditions. The house was lovely and peaceful which made a relaxing trip to Maui for a traveler that needed it.
April 2015
Thank you so much for a wonderful stay at Menehune House! We loved cooking in the kitchen and that all 5 adults could relax comfortably in the sitting area.
The proximity to Mama's Beach was ideal. The beach gear and towels were great.
Loved the landscaping of the yard and surrounding area, would have loved a book about local flora and fauna to help identify plants!
Thank you Anne and owners for such a clean and well appointed lodging, and for being so responsive to our needs.
Will definitely recommend to others
Aloha & mahalo
Care to write a review, we'd love it!