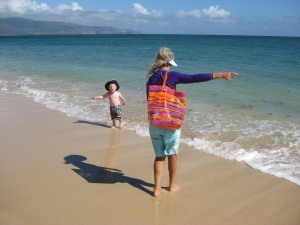 About Margaret McIntyre owner
I grew up in New Zealand, I lived in Vail Colorado for over 20 years teaching skiing and developing a unique program Dynamic Skiing for Life applying The Feldenkrais Method® to skiing using an integrated indoor/outdoor format. My husband and I started coming to Maui to windsurf, surf and scuba dive in the 80s as a perfect way to continue our love of the outdoors but this time we were playing in the ocean instead of on the mountains. We fell in love with Maui and the north shore and we bought our property in the early 90s. With a lot of love and family help we created the Menehune Cottage for vacation rental from the original Hawaiian home on this property. Initially we lived in the Menehune House and made many upgrades, including expanding the master bedroom and opening it to the back lawn, and we also created a wonderful kitchen with open living and dining. We love the location which is close to everything we love to do and we have enjoyed sharing this with our guests. Maui is a special place with its mountains, ocean, rainbows, soft air, music and the people. We have made this our home and now instead we visit the mountains for a little skiing, but we always return home.
Margaret McIntyre purchased this house and cottage in 1993
Why Margaret chose Paia and Kuau
3 mins walk to the beach, we can rig on the lawn and windsurf at the Kuau channel, close to everything we love and need – Paia is less than 5 mins away, also Baldwin beach for early morning runs and a couple of minutes from Hookipa beach – it is convenient and delightful
What makes this cottage unique is old Hawaiian charm, friendly knowledgeable owners, comfortable, quiet, short stroll to ocean through neighborhood, easy off street parking, centrally located on island, close to historic town of Paia, close to beaches. walk to Mama's Fish House #1 rated beach front restaurant in Hawaii, close to surfing, windsurfing, kiting, we now have in the neighborhood The Kuau Store with a great array of goods from expresso coffee, groceries, healthy lunches and snacks, smoothies, sunscreen and surf wax!!
What makes this house so special?
wonderful combination of a plantation style house retaining the original hardwood floors, open beam ceiling in the living space, giving it a "beach house" feel, and all the conveniences of modern high end appliances plus solar hot water! located next to the cottage it shares all the amenities mentioned for the cottage – the house and the cottage each have their own private space and individual laundries