Testimonials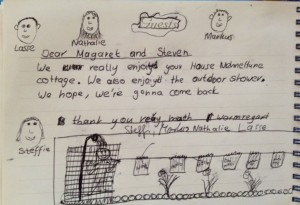 Click to enlarge
Great location & hospitality October 2014
Margaret
Your wonderful hospitality & beautiful accommodations at Menehune Cottage made our short stay on Maui a time we will never forget! Paia Town restaurants & shops, Mama's Fish House and breakfast at Charlie's – awesome! Aloha
Amy, Ray, Beth, Mark
Menehune House – amazing!! 10/14 to 10/23/14
Thanks so much, Margaret, Steve and Anne! We have had such an amazing time
here at Menehune House, best honeymoon, thanks so much for sharing it. We
got food at farmers' markets and Mana Foods and cooked here a lot. We loved
the grill and the outdoor shower and we did yoga in the main living room
every morning. It was a great central location on the island. We loved
walking to the beach in the morning to watch the sunrise. We also loved
walking to Ho'okipa to watch surfers and windsurfers. Kuau Store is super
convenient too. Margaret and Anne were both accommodating and kind. We hope
to return here in the future to celebrate future anniversaries. We have
learned a lot about Hawaii, the culture and history and have a new respect
for it. We understand the sacredness of the ocean and land (at least we
appreciate it) now. Thanks for having us. We hope to come back! Love,
Mahalo, Lizzie and Jesse
Great place to stay … windsurfer from Switzerland! August 2014
I stayed at the Menehune Cottage a few times already and I have to say that it's a great place. The cottage is lovely, very quite with a nice garden and an outside shower which you gotta love when staying in such a place ! The location is perfect, very close to the beach.
And the best part is the couch in the corner, which is AMAZINGLY confortable at all times (in the morning when you're not supposed to be tired, in the evening after a long day of windsurfing… !).
This location is great and I can only recommend it.
Wonderful Cottage August 2014

Mahalo! 'Twas an amazing stay in your wonderful cottage. A perfect location to explore the isle of Maui while avoiding the hustle-bustle & crowds. We absolutely loved every moment. Aloha!
"True gem – Best cottage on the island!" July 2014
My girlfriends and I stayed at the cottage for 8 nights and it was amazing. The cottage is very spacious, very clean and it has everything you will need for your Maui stay. IT is centrally located, which made it perfect for our daily trips on the island. The bedrooms are very spacious and have huge windows and big beds. Very comfy and cozy ! We loved it so much, we cannot wait to go back.
Margaret McIntyre, who is the owner is very helpful, very responsive and super sweet.
I am a picky traveler and I am so happy we found this true gem on the island.
Aloha!

P.S. You must try the shower outside – it was the best thing ever!
"A wonderful place to stay in Maui – peaceful, lovely, and good!"
The cottage is tucked away in a neighborhood, surrounded by lush greenery – it felt very secluded, though it wasn't . We slept and woke to the sounds of the surf – less than 1/4 mile away from the cottage. We drove all over Maui, twice to summit of Haleakala, to Hana, to beaches on all shores, and were happy to come home to our comfortable cottage. It's less than a mile from Paia town, Baldwin Beach, and Ho'okipa beaches – so good. We stayed two weeks, and loved it! If you're not into high rise condos or hotels, this is for you!
" This is a very nice cottage in the middle of abundant vegetation. Ocean, beach and the famous "Mama's Fish House" are only 5 minutes walking distance and the plantation town Paia with its shops and restaurants one mile away. so the cottage is definitely well located and there are no disturbances whatsoever. The cottage itself has a lot of charm, the kitchen is well equipped. It's a lovely place to hang loose and to enjoy Maui."
Florence & Michael, Switzerland
We stayed at the cottage for three weeks and were satisfied with the house, location and the nearby town Paia. It is a quiet and child friendly and you don't have to worry about cars and traffic. The cottage had everything a family with kids need, from kitchen equipment to beach toys and gear. The photos on the web give an accurate account of what it looks like – no surprises there. Only a little walk away are good surfing beaches, but it was too windy at the time for us to swim and play on the beach with the kids,so we only went there for morning or afternoon walks. Paia is a great little laidback town with a good mix of locals and tourists without being touristy. We highly recommend The Flatbread Company for delicious pizzas and casual dining. We also went to Mama's Fish house one night and had a lovely and expensive meal. Paia is also a great starting point for trips around the island. We drove quite a lot to various beaches on the south shore. The hosts were really friendly and helpful giving good tips for excursions and beaches.
Formidable Nous avons loué ce cottage en août 2012 pour une famille de 4 personnes. Il est très confortable, très bien equipé et bien situé, notamment pour les planchistes. Les propriétaires sont charmants et très accueillants. Nous le recommandons à tous ceux qui désirent être au calme dans un environnement agréable.
Care to write a review, we'd love it!